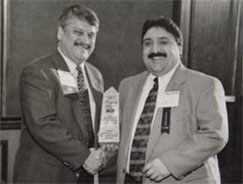 In 1998 and again in 1999 the Maine Memorial Company was awarded the prestigious Aspire Award from the Monument Builders of North America (MBNA) for their achievements in marketing and public relations. MBNA is the trade association for the entire monument industry, with over 850 member firms.
From 1991 through 2005, Paul DiMatteo was elected to the Board of Directors of The New England Monument Dealers Association by his peers in New England. From 1995 – 2001 he was elected Vice President of this Association and from 2001 to 2003 is serving as the Association's President.
From 2001 to 2006 Paul DiMatteo was been elected by his peers in the monument industry to be a Vice President of the Monument Builders of North America. In 2007 Paul served as the President of the association.
Maine Memorial Company was selected as a member of the American Institute of Commemorative Art (AICA) in 2015. Membership is by invitation only and is limited to monument retail firms who have shown a sincere committment to excellence while practicing their trade.